Golf Tournaments
Spice up your Golf Tournament, Business Golf Scramble, or Golf Fund-Raiser with the comedy magic of Clinton W. Gray. Whether you are looking to keep guests entertained on the course, in the clubhouse, at the awards banquet, or all three, Clinton will keep your golfers engaged and enthralled.
Comedy & Conjuring Show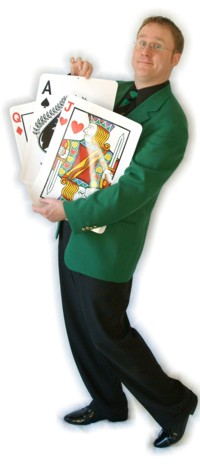 The flagship show that started it all! Comedy & Conjuring blends magic, music and mayhem into a high-energy, interactive comedy show! This show can range in length from 30 minutes to an hour and is perfect for 30 to 300 golfers.
This show features many of the routines that have earned Clinton five international performance awards; unbelievable entertainment pieces that have taken him around the world including:
down the hatch: Okay.. a little difficult to explain, but guaranteed to have you holding your sides in pain with laughter, as Clinton attempts his version of sword swallowing!
cowboy card trick: an amazing comedy piece originally developed and performed for the World-Famous Calgary stampede. The routine recently won Stage Act of the Year!
caddyshack: a very funny golf ball routine where one of your golfers becomes the star of the show!
This entire show is uniquely tailored to involve all the golfers; unbelievable illusion plus hysterical audience participation combine to create world class entertainment.
Magic-at-the-19th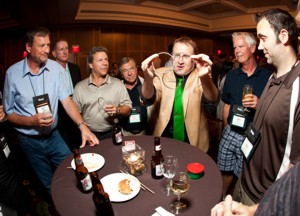 Keeping people entertained after they come off the course (and while waiting for dinner) is always a challenge... but Clinton can help! While the golfers relax and have a beverage at the clubhouse, Clinton performs strolling, interactive close-up magic from table to table. This works as a great icebreaker; it's a highly effective way to unify the group of people and maintain a consistent upbeat atmosphere.
Although it's called "Magic-at-the19th", in fact this type of magic is perfect:
in a sponsor tent
during the cocktail hour
on the golf course
at a hospitality suite
pre/post awards banquet
during a meet-&-greet
Magic-at-the-19th is a great way to have entertainment without the challenges of having a formal show. There's no need to block out extra time slots in your agenda, and you don't have to setup a special performance area. Also, is the perfect way to have memorable entertainment that does not interrupt socializing and/or networking... in fact it actually enhances it!

Lynda Pinette — Staples Inc.