Metaphor of Magic™ Workshop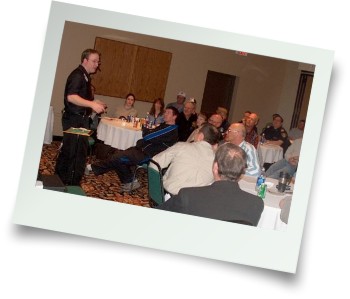 This award-winning magic workshop is designed to introduce the art of MAGIC as a TRANSFORMATION MECHANISM – a demonstration that gains an audience's attention, lowers their defenses and serves as a metaphor to solidify an idea or concept.
Quite simply, Clinton will show you how to perform simple magic tricks that can be used to make a point; a point that is made in way far more effective than straightforward logic. These mechanisms can be used in any situation imaginable: to rouse a workforce, to launch a new product, to close a sale, or to get your kid to clean his room!
This team-building workshop is hands-on, 100% interactive and attendees will use Tricks of the Magician's trade to:
expand their creativity
learn group cooperation fundamentals
improve communication skills
develop "outside-the-box" thinking
boost their self-confidence
Using items and ideas found in the business environment, the magic routines that Clinton teaches will allow delegates to break the ice in awkward situations, establish greater rapport with staff & clients, and develop dynamic business presentations. Magic creates a tiny, exciting, momentary bubble of disbelief, and in that moment the presenter and the message becomes unforgettable!

Peter Winters — Clarica Inc.