Wedding Magic
Make Your Day Truly Magical!
Clinton is kept extremely busy with weddings during the summer months. You have two show options; the choice(s) depends on the other activities you have planned, your schedule and the venue.
Mingle Memories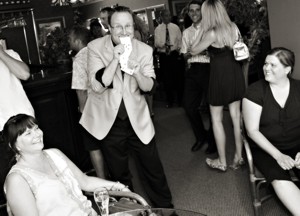 While mixing and mingling with your guests, Clinton delivers "On-the-Spot Entertainment" by presenting close-up interactive magic at your wedding, engagement party or shower. This works as a great icebreaker — it's a highly effective way to bring together your friends & family who may not all know each other. Also, it's the perfect way to have memorable entertainment, without having to block out extra time in your schedule.
The magic is perfect for:
An Engagement Party
A Wedding Shower
After the Ceremony
During the Photos
At the Reception
Pre-dinner or post dinner
Late night
Since the roving magic does not require any special setup of equipment, it works in any size venue, day or night, indoors or out. The PERFECT type of wedding entertainment!
The Best Wedding Ever Show
We couldn't think of a cool name for this show, but we kept hearing from guests that Clinton's performance made this "the best wedding ever," so we decided to call it that!
This 35 - 40 minute show blends magic, music and merriment into a high-energy, interactive comedy show especially designed for weddings and anniversaries.
This show features many routines especially created for weddings; unbelievable entertainment pieces that focus on your guests including:
The Best Man... Really? a hilarious routine where the best man becomes the magician and shows why he really is the BEST Man.
I Know What You Did Last Summer: Clinton reads the minds and the innermost thoughts of your bridesmaids.. all will be revealed!
What a Tangled Web: a story of love and passion wrapped into a magic routine with a surprise ending.
Down the Hatch: Okay.. a little difficult to explain, but guaranteed to have you holding your sides in pain with laughter, as Clinton attempts his version of sword swallowing!
This entire act is uniquely tailored to incorporate your friends and family; amazing illusion plus hysterical audience participation combine to create world class entertainment for your special day.

Norren Rochette — Bride's mother